Introduction
Zeta-pdm provides a full consultancy service, helping to identify and rectify problems, optimise efficiency and increase throughput. Zeta-pdm uses process visualisation methods to provide an accurate representation of the expected distributions of each flow component during the seperation processes. These methods rely on in-house Computational Fluid Dynamics (CFD) capabilities.
Computational Fluid Dynamics (CFD)
Process calculations aim to provide information on the operating conditions inside a separator vessel but they cannot show the actual fluid flow field associated with the process in any detail.
Zeta-pdm utilise the latest CFD techniques to troubleshoot existing designs and to enhance new build designs. With CFD we are able to create model geometry, which is highly representative of the separator vessel. The model is then split to form a computational grid consisting of literally millions of individual cells. The equations of fluid flow are solved at each separate and discrete cell point and then combined to provide a solution for the overall flow field. Zeta-pdm have the knowledge, resources and equipment to push the accuracy level as close to perfection as is humanly possible.
Computational Fluid Dynamics (CFD)
Computational Fluid Dynamics (CFD)
Helideck Inspection & Certification
Edaran Mesra's Certificate
Helideck
Introduction
Edaran Mesra is authorised by Civil Aviation Authority of Malaysia (CAAM) to conduct Helideck Inspection & Certification. With the vast experience and training, our team are capable of providing world-class helideck inspection and certification services at a competitive price to all helicopter landing areas worldwide.
Scope of Inspection
Helideck surface, dimensions and markings.
Helideck general arrangements, including structures and support equipment.
Helideck obstruction environment, including markings & lighting arrangements.
Helideck emergency, rescue & fire-fighting facilities, equipment & procedures.
Helicopter operations support, including radio and meteorology facilities.
Helideck manning arrangements, including HLO, Helideck Assistants, Fire Team and Refuelling Party.
Their training and competence.
Other operational and environmental requirements.
Introduction
Helideck Friction Test approved by Department of Civil Aviation Malaysia and carried out based on CAP 437 which provides guidance on the periodicity of helideck friction testing between six months to three years depending on surface friction test result. To maximize efficiency, offshore installation may opt to have helideck friction test carried out annually together with the helideck inspection / audits.
Friction Table for Helideck
| Area of Helideck | Fixed Helideck | Mobiled Helideck |
| --- | --- | --- |
| Inside TDPM Circle | 0.6 | 0.65 |
| TDPM Circle and H Marking | 0.6 | 0.65 |
| Outside TDPM Circle | 0.5 | 0.5 |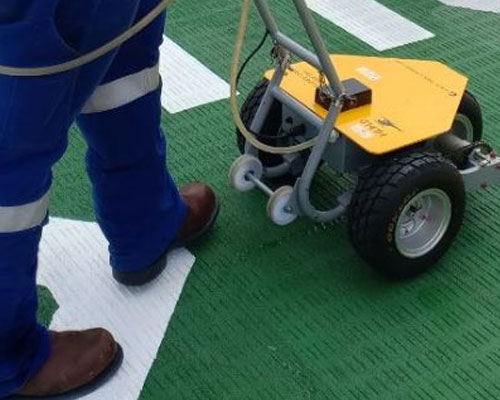 Micro GT Friction Test machine
Friction Test